Ralph Breaks the Internet (Disney, 2018)
Yes, we get it, a pandemic forced us into operating remotely. We collaborate online through awkward Zoom calls and constant Slack pings. We watch virtual conferences like Apple's WWDC or Snap Partner Summit on YouTube, and even Airbnb launched a platform to enable online yoga lessons or to drink with Olympic medalists. Oh and don't get me started on my YouTube feed with a bunch of grown-ups rambling on-air over a webcam.
Just hearing that doesn't sound so great, but existing digital tools allowed for a somewhat smooth transition to the new normal - though it also reinforced its limitations. What lacks in remote tools today is a sense of presence — we don't coincidentally run into people anymore. Many people who participated in WWDC expressed their concerns about the inability to hang.
"Conferences aren't just about what's on the schedule, but the side conversations and the other social aspects… I don't think we've quite figured out as an entire industry what the best way is to bring in some of those social interactions when an event is virtual."

- Christina Warren, a former tech journalist and a senior cloud advoate at Microsoft (Wired, 2020).
In a remote environment, it's more difficult to meet new people and build new relationships. As we gradually immerse ourselves in the digital world, the lack of presence becomes a prominent factor that sheds light on our social cravings. I believe this discovery is hinting at an exciting beginning for the future of software.
Building the New Normal
To be anecdotal, I started playing Animal Crossing New Horizons and adopted island-building as a daily routine. I enjoyed playing God by building my own world and sharing the same space with friends during the quarantine. This made me wonder,
What if Animal Crossing enabled custom branded experiences?
In other words, the App Store of virtual environments in which brands curate their own "island" and offer custom branded experiences in a virtual format. And naturally, KFC Philippines came through:
Humor me for a second: what if a financial institution created a custom branded "island" and established a virtual branch where customers visit to complete transactions or receive financial advice? Or a streaming platform could create their own virtual theater that could add a sense of presence to something like Netflix Party. Fortnite recently did this with their Christopher Nolan movie night, following their virtual concerts by Marshmello and Travis Scott. With any of these examples, the execution might not be there yet, but it's hinting at what communal experiences could look like in the foreseeable future.
Maybe there's something we could take away from these gaming platforms as a way to experience the digital world? You navigate as your digital double and interact with one another in the same environment as entities. These digital doubles could become "the gatekeeper of our digital lives" to protect our data privacy as well (Fjord Trend, 2020).
Of course, this would be irrelevant if VR is ready for market, but we all know that technology hasn't caught up to our imaginations yet. Animal Crossing is just an example, but there's a real case to be made for the architecture of gaming platforms to be a key precedent for the future of software design.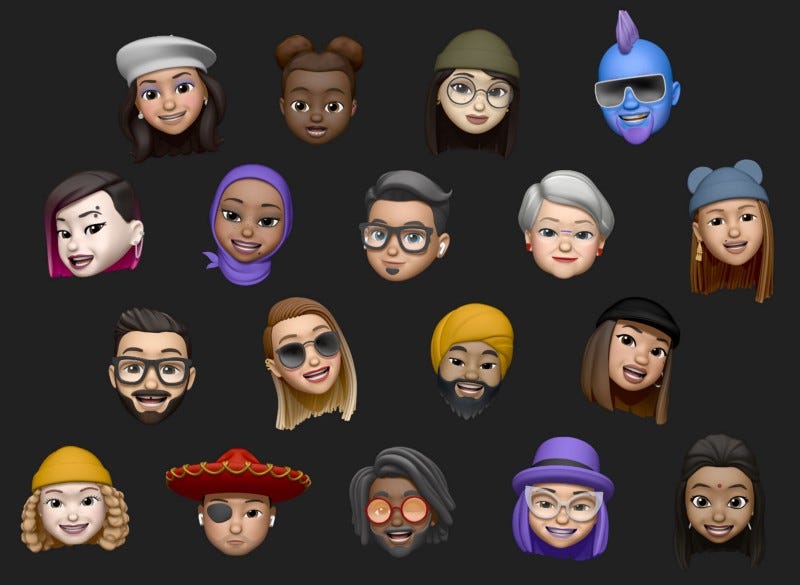 Memojis gave us an identity that emojis cannot, how could we establish a presence in a way that the current state of software cannot?
As I began to develop this thought, I came across some articles speaking on this topic, but John Palmer's thesis on spatial interfaces was the most convincing. My attitude towards any idea I come up with is that: somebody must have thought of this already, and it turns out that John articulated all of this way before the pandemic. This discovery was humbling and inspiring, so if you're interested in this domain I strongly recommend reading John's essay.
Spatial Interfaces
Think about this: there is no app that replicates a deck of cards. Go ahead and look on the app store, and you'll find…darkblueheaven.com
Spatial Software
I published Spatial Interfaces about seven months ago. This is a follow-up on that essay, starting with some updates on…darkblueheaven.com
To reiterate, there's a real case for gaming platforms to be a starting point for the future of software: which is spatial thinking in software design. It is a framework that imitates the physical world in order to enable more humane interactions in the digital arena.
Different disciplines will have to come together to create a new digital environment. Who are the architects of tomorrow? I obviously don't have a solution to this but if I had to guess, we must be open to bringing different disciplines together to co-architect the virtual metropolis. Perhaps we need game designers to join product companies?
Thanks for reading, have a nice day (:
---
Here are some existing products that adopt a spatial interface:
Figma: the collaborative interface design tool.
Figma helps teams create, test, and ship better designs from start to finish. Meet our customers Packed with design…www.figma.com
Overcooked! 2 for Nintendo Switch - Nintendo Game Details
Overcooked returns with a brand-new helping of chaotic cooking action! Journey back to the Onion Kingdom and assemble…www.nintendo.com
Online Town
Online Town is a video-calling space that lets multiple people hold separate conversations in parallel and walk in, out…theonline.town
MakeSpace
↓ A whole new way to be together, apart. A browser for you, your friends, and your community. A place to co-create…makespace.fun
Spatial
How Work Should Be Watch Demo in Virtual Reality or Augmented Reality format_quote Spatial is the only solution we want…spatial.io
Education in Second Life
Meet and chat with real people from around the world! Play for Free Elie Spot A U.S.-based designer of virtual fashions…go.secondlife.com
Nototo
The note-taking app for visual learners.www.nototo.app